One of the most essential components of any bathroom is the towel rail. Now you can install a single towel rail or a series of towel rails on your bathroom wall depending on your nature of purpose. There are various types of towel rails available in the market. The most popular of them is the heated towel rail. This particular towel rail gets heated up by heating coils and help in warming up your towel during cold winter days or assist in drying your wet towel quickly. Installing a towel rail is pretty easy and you can do it by yourself without hiring a specialist. However, you need to keep certain equipment's like a hammer, screws, a driller, etc. handy when you are planning to install the towel rail yourself. Nonetheless, you would like to go through some important tips before installing the towel rail on your bathroom wall.
Best DIY Tips to Install Towel Rails
1. Use anchors and brackets to support the towel rail: You would not like it if your towel rail falls off the wall every time you fix it. Therefore to avoid this problem, use anchors and brackets to support your towel rail.
2. Never install the towel rail behind the door or on the door: This type of installation may lead to your towel falling off the rail due to repeated opening and closing of the door. Also, if we talk about heated towel rails, then there is another vital problem that arises if you place the towel rail on the door or behind it. The problem is that the rail cannot be properly hooked or connected to electric power making the total installation process a waste of time and effort.
3. Do not install the towel rail in a sauna or shower enclosure: This is a common mistake that people make while installing towel rails. When you install the towel rail inside the shower enclosure, there is a possibility of getting your towel wet as you take a bath. If the towel rail is a heated one then continuous splashes of water during a bath may lead to a short circuit and some serious accident. Hence you must avoid such mistakes.
4. Always earth the electric circuit of a heated towel rail: Earthing is a safety precaution that all of us take while installing any electrical appliance in our house. Therefore we should also do the same while installing a heated towel rail in order to avoid unnecessary accidents to take place in case of a short circuit. 
5. Do not place the heated towel rail too close to the floor: You must never mount the heated towel rail very close to the floor as it might cause severe leg and foot burns which is not at all desirable. Keep at least a gap of 36 inches between the towel rails and the ground while installing them.
6. Abstain from placing the switch of the towel heater near any water source: You should never place the switch of the towel heater or the towel heater itself near any water source such as washbasins or taps. This is to prevent any short circuit or electrocution by splashing of water on the switch or the towel rails.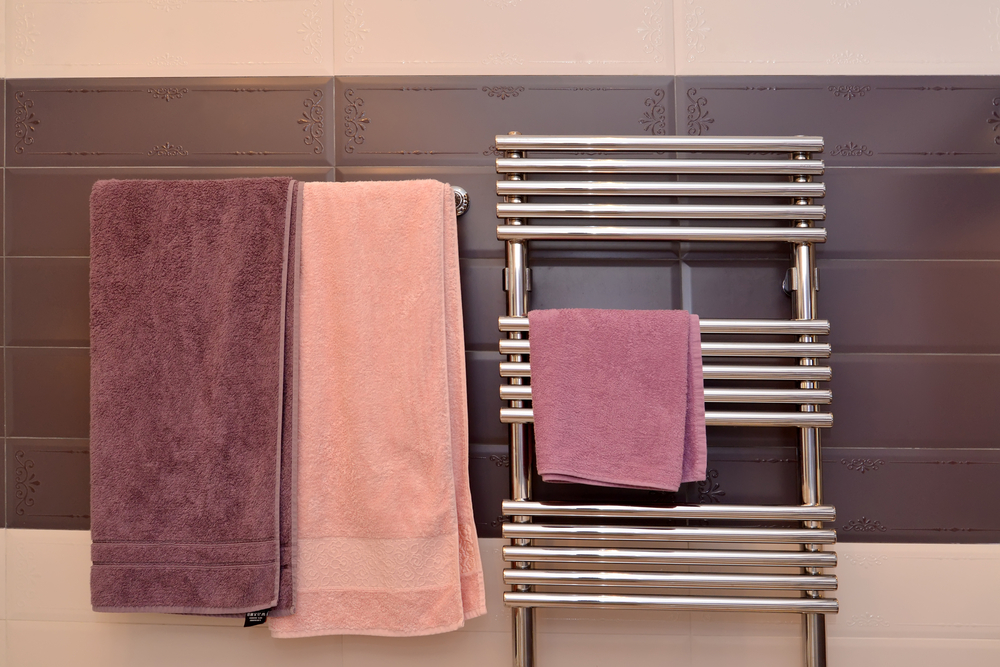 While a normal towel rail may be installed by any common person, a heated towel rail must be installed by a specialist or an electrician as it involves a proper understanding of electrical circuits. You must also choose the design of the towel rails very diligently and make sure that it matches well with the decor of your bathroom or washroom and maintains the cohesive and homogenous appearance that everyone craves for in his or her apartment.